You are all probably aware of that NAB was cancelled this year. Instead of releasing the products that we have been working on at the show, we will release them online.
If you're interested in purchasing one or just try one out please reach out to one of our resellers (in your country). As usual we try to keep the price for our accessories as low as possible. All the components are of very high quality and most of them come from Northern Sweden.
As per usual, if you have any questions regarding the new products don't hesitate to reach out to us.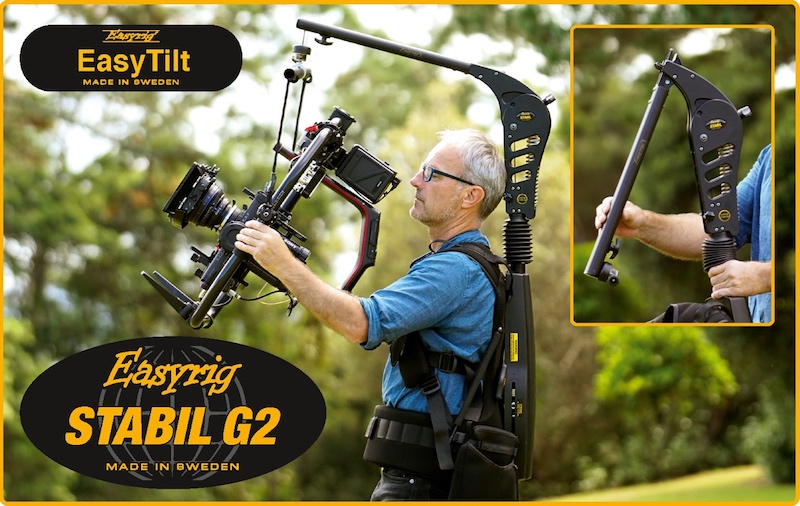 EasyTilt (Art. No: ET000)
We have been thinking of making something that made it easier to tilt a gimbal with Easyrig ever since gimbals became a thing. It took some encouragement from two of our ambassadors (Justin Lovell from Canada and Niklas Johansson from Sweden) to finally decide to make the EasyTilt.
The EasyTilt enables the user to tilt a gimbal with ease. It comes with a crossbar, ropes, spindels (for the gimbal) and a ring with a ball stud (for attaching EasyTilt to a Quick Release). It's possible to use EasyTilt with the Standard Camera Hook as well.
Here's the manual that comes with EasyTilt with step-by-step instructions:
STABIL G2 (Art.No: ST000)
The STABIL is now upgraded and will from now on be called STABIL G2 (Generation 2).
After the release of the 1st generation of the STABIL we listened to feedback from our users. All the changes that we have made to the STABIL comes from comments that you (our users) have made. We greatly appreciate all the feedback we can get on our products, so if you think that we could improve on something please let us know.
So what are the changes you may ask, I'll get right on it:
-The arm is now foldable, it'll be a lot easier to travel with now. It's so compact it fits in a queen bag! In sheer size when it's compacted you can compare it to the +130mm(5") arm.
-The locking pin is now conical making it possible to lock the arm in 90 degrees without having that jittering sound that comes from the arm hitting the pin. One noteworthy thing here is that you cannot retrofit the new conical pin on an old STABIL.
-It now comes with a hanger, meaning that you can now hang your Easyrig on a Filmcart (or literally anything that has an edge to it).
Here's the manual that comes with STABIL G2:
We made a video about STABIL G2 & EasyTilt, check it out:
Now when we just released two products you may think that we won't release anything new for a while. My response to that is "stay tuned for IBC". 😉

/Pontus