Can I upgrade my old Gimbalrig vest with EASYLOCK?
It requires a special Horse Saddle Sewing Machine. If you want us to upgrade send us a mail: info@easyrig.se
Do I have warranty on my Easyrig?
After you have registered your Easyrig by filling out the form that is located inside the bag (or on our website), you have two years limited warranty on your Easyrig.
Can I retrofit STABIL G3 on my Easyrig?
Yes, please take a look at our instruction video which can be found under "Service Videos & Manuals". The STABIL can be retrofitted on Cinema 3 and Vario 5 systems.
Does my Easyrig need any maintenance?
Yes, we recommend you to check your Easyrig rope every once in a while to see if it is working as intended. If you want to stay on the "safe side", change the rope in your Easyrig once every five years. You may have to change the line more often if you are a Rental Company.
How do I become an Ambassador for Easyrig?
If you think that you are ambitious enough to be an Ambassador for Easyrig, you can send us an E-mail. Please provide us with all the information about the work you have done, videos and pictures are greatly appreciated. It's also important that you let us know for how long you've used the Easyrig system. We will review your E-mail and get back to you with an answer as fast as possible. If we already have an ambassador in your country, chances are that you will be rejected.
I need a part for my Easyrig urgently, can I buy directly from you?
Before contacting us, we suggest that you look for a reseller in your country. You will get your part(s) faster this way. If the part is not available, we will help you.
I think I have purchased a copy by accident, what can I do?
If you are unsure if you have a legit Easyrig or not - do not hesitate to contact us. Try to see if you can send it back to get a refund.
I have seen copies of Easyrig, why should I buy the original product?
We have tested one of these copies that is out on the market, it is safe to say that you are not doing a smart investment when buying one of these copies. To learn more about our testing please contact us or read the post under "News" that is called "Beware of fake Easyrigs".
How do I mount a Serene arm on my Easyrig?
For an in-depth explanation, please go to:
www.flowcine.com/content/category/2-documentation
It is cruical that you pre-stretch the line on your Easryig once you have mounted the Serene Arm. For more information about this, please look at our "Service Videos & Manuals".
Can I buy a Serene from you?
No, please contact the company "Flowcine" (
sales@flowcine.com
)
I can only find MiniMax on your website, where is Mini / Mini Strong?
We do not sell Mini / Mini Strong anymore. We highly recommend you to upgrade your old Mini system to a MiniMax.
I want to be featured on your Instagram, where do I send my picture(s)?
If you want to be featured on our instagram, please send your pictures to pontus@easyrig.se. And if possible, provide us with information about each picture. (Location, camera set-up, people involved e.t.c). If you want us to tag you in the picture we will also need your instagram account name.
How much power (Newton) do I need on my shock absorber?
To find out what shock absorber you need, you have to weigh your camera with all the accessories. Once you have done that, take a look at the chart below or send us an Email.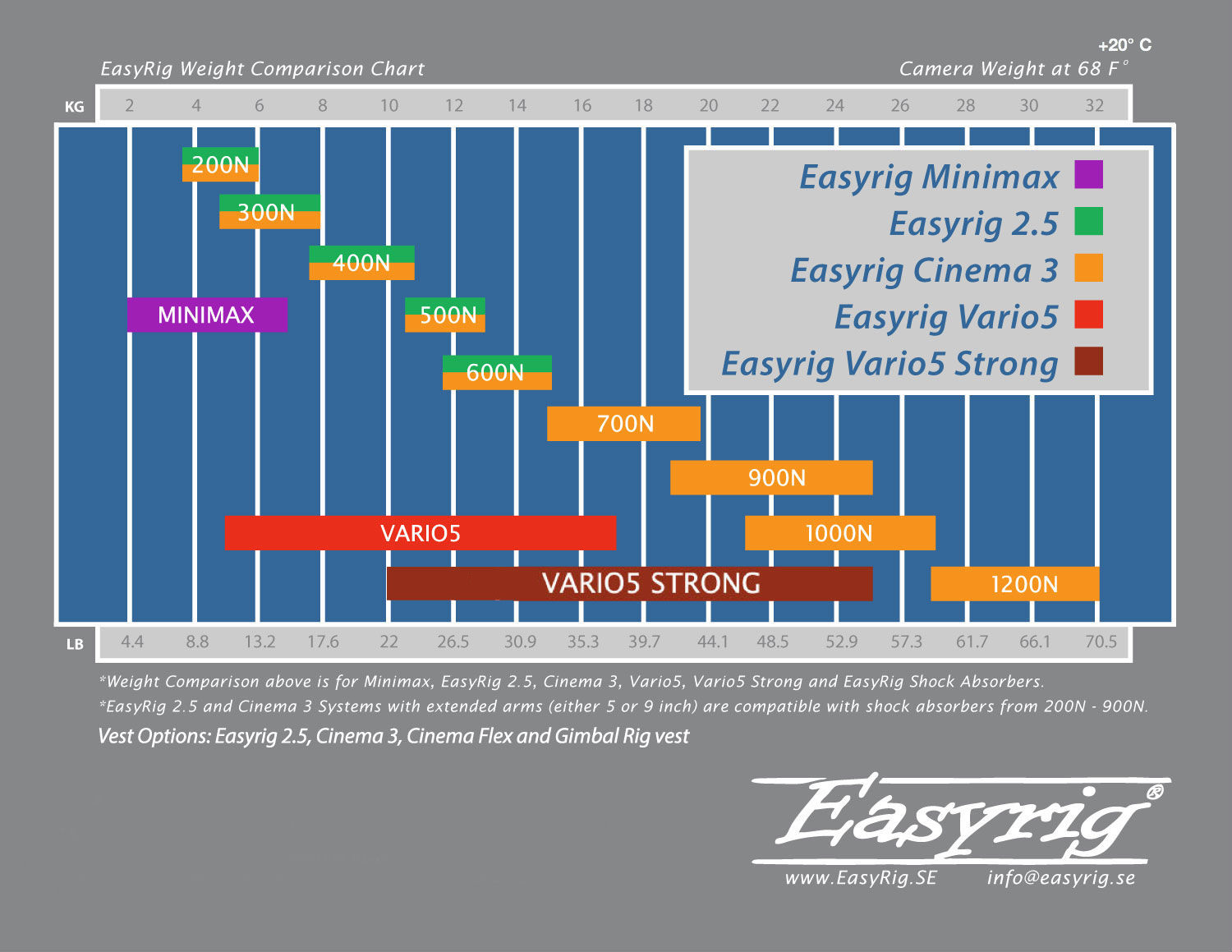 How many different bags do you have?
When ordering an Easyrig, you can choose whichever bag you want, if nothing is specified it will be supplied with a bag suited to the rig you have ordered. We have five different kind of bags:
"Standard" bag (For Easyrig 2.5, Cinema 3/Cinema Flex with standard and +130mm(5") arm)
"King II" bag (for Vario 5 with any of our vests and arms)
"ACE II" bag (for Vario 5 in combination with any vest with standard,+130mm(5") & STABIL G3 arm)
"Big Bag" (fits all the models and extensions, can be used as a backpack as well)
"Minimax" bag (a smaller bag designed for the MiniMax system)
"ROYAL" (for all models except the ones with +230mm or STABIL G1)
What is the difference between the lower arms?
The main difference is length, we have three kind of arms:
Standard (600mm/23.6"), Gimbal Rig length (800mm/31.5") and MC-arm length (1000mm/39.37").
The Easyrig Vario 5 & MiniMax do not have lower arms, they have so called "Power Packs". These can be slightly adjusted vertically.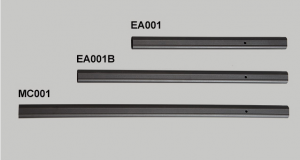 What is the difference between the upper arms?
We have five different options:
Standard - Shooting from your shoulder.
+130mm(5") - Shooting from your shoulder & handheld.
+230mm(9") - Shooting handheld or with a gimbal exclusively.
The +230(9") arm comes with a steel mid-tube unlike the standard or the +130mm(5") which comes with an aluminum mid-tube.
Easyrig STABIL G3 - Shooting handheld, with a gimbal, from your shoulder, stabilized and non-stabilized.
How many type of vests do you have?
We have five different vests available: 1.Cinema (available in standard & large size) 2.Cinema Flex (available in small & standard size) 3.Gimbalrig (available in standard & large size) 4.Gimbal Flex (available in small & standard size) MiniMax vest (only for the MiniMax system - one size fits all) 2.5 vest is expired. You can mount any arm/power pack to all of our vests, the way it is attached to the vest has a universial solution.
Are there different types of Easyrig?
We currently have four different systems:
Easyrig Vario 5 (5-17kg / 11-38lbs)
Easyrig Vario 5 Strong (10-25kg / 22-55lbs)
Easyrig Cinema/Gimbalrig 3 (200N, 300N, 400N, 500N, 600N, 750N, 900N, 1000N & 1200N).
Easyrig Minimax (2-7kg / 4.4-15.4lbs)
All of these systems (also referred to arms/power packs) can be mounted to any of our vests. If you happen to have an older model of Easyrig than the systems mentioned above, we can still help you with spare parts. Some Easyrigs have expired and therefore isn't listed.